The FFA Centre of Excellence squad returned from the break keen to turn their maiden Foxtel National Youth League season around, but were thwarted by a Sydney FC Youth side in strong form.
There were some familiar faces in the Sydney FC line up. Making the return to AIS Grass 2 was 2016 FFA CoE graduate Daniel Maskin, as well as Bai Antoniou & George Timotheou from the 'class of 2014'.
Sydney FC opened the scoring in the 5th minute, as a defensive turnover proved costly. Chris Arditti racing away to square the ball in to Charles Lokoli-Ngoy who made easy work of the finish.
Just 5 minutes later, Mirza Muratovic was unfortunate not to equalise, denied by the crossbar after some beautiful one-touch play down the right hand side.
The FFA Centre of Excellence youngsters kept positive, keeping the ball moving with promising pieces of possession, and maintaining a high tempo press in defence.
Their persistance and pressure paid off as they equalised through John Roberts on the 22nd minute. Roberts pouncing on the ball in the penalty area as Sydney FC failed to play out and tenaciously making sure that the ball ended up in the back of the net.
Both teams battled to control possession for the remainder of the half but neither could break the deadlock as they headed into half time level.
Sydney FC started the second half just like the first, and within 6 minutes had taken a 2-1 lead. It was Arditti with the assist again, sliding a pass to William Mutch who took a single touch, racing at top speed and calmly placed the ball under the advancing keeper.
Again the youngsters responded, this time through Jacob Italiano. Italiano leaving nothing to chance as he controlled the ball down with his chest in the box and then rocketed it past Evans into the top of the net.
The celebrations were short lived, as Sydney FC made it 3-2 just two minutes later. Lokoli Ngoy with his brace, rifling home from the 6 yard box as FFA CoE failed to clear from the corner.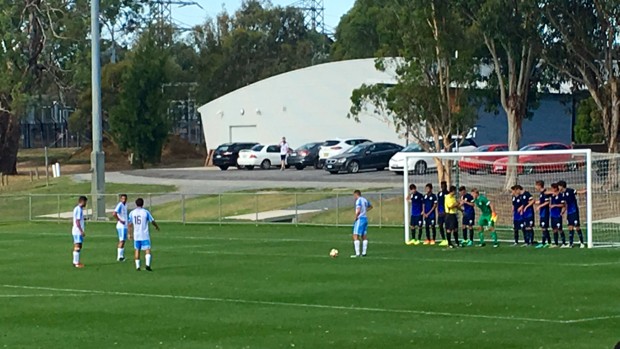 With ten minutes remaining Sydney were awarded an indirect free kick inside the area after a dubious pass-back was called. Shooting from the 6 yard box, the FFA CoE lined the goal line. Nicola Kuleski not deterred, fired into the roof of the net from the lay off, making it 4-2.
It was a tough climb for tired legs, and the FFA CoE youngsters could not get themselves back into the game. Sydney FC sealing the 3 points shortly after as Antoniou made it 5-2 in the 89th minute.
FFA Centre of Excellence will now travel to Popondetta Park to take on Western Sydney Wanderers FC at 4pm on Sunday 15 January.
FFA Centre of Excellence: 1. Lachlan Watson (GK), 3. Patrick Scibilio, 4. Kaleb Cox (2. James Fletcher 73'), 5. Joel King, 6. Kai Trewin (20. Bryce Bafford 69'), 7. Jacob Italiano, 9. John Roberts, 11. Mirza Muratovic (21. Melad Ahmad 61'), 16. Benjamin Obst, 17. Louis D'Arrigo, 23. Marc Tokich
Unused Substitutes: 12. Jakeb Wiseman (GK)
SYDNEY FC: 1. Mitchell Evans (GK), 2. Brendan Curtis, 13. Liam McGing, 4. George Timotheou, 14. Cristian Gonzalez, 21. Andrea Agamemnonos, 6. Nicola Kuleski (15. Sam McIllhatton 85'), 16. William Mutch, 12. Charles Lokolingoy (8. Juan Zapata 80'), 11. Chris Arditti, 7. Daniel Maskin (9. Bai Antoniou 75')

Unused Substitutes: 20. Tom Manos (GK)